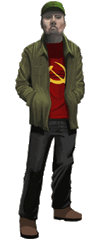 Socialists are a voter group.
Socialists are supporters of economic stability. They're mainly concerned about having a high rate of Equality and low rates of Poverty and Unemployment. To this end, they support progressive taxation, public welfare, and government-based subsidies to help people.
Influences
Edit
In Democracy 3, socialists are 25% more likely to be trade unionists and 20% more likely to be state employees.
Membership
Edit
Citizens are influenced to become socialists because of high socialism.
Other Groups
Edit
Almost every Socialist policy benefits the Poor, making the two groups close allies. However, since almost every Socialist policy harms the income of Capitalists and the Wealthy, the groups have a historically infamous blood feud.
Pressure Groups
Edit
Dissatisfied socialists - especially poor ones - may join the violent Socialist Army.
In Democracy 3, dissatisfied socialists - especially poor or trade unionist ones - may join the Communist Party to make their demands heard and, if ignored, may radicalize and join the Revolutionary Army.
Ad blocker interference detected!
Wikia is a free-to-use site that makes money from advertising. We have a modified experience for viewers using ad blockers

Wikia is not accessible if you've made further modifications. Remove the custom ad blocker rule(s) and the page will load as expected.